The Story
In 1998, Stella and myself, Richard were running a contemporary Craft pottery. Selling Stella's designs through Craft Markets, Craft retailers and working on commissions of housewares and Furniture.
One day, looking after our nephew Thomas, we had to pop into the pottery to check on a kiln. While we were there we started playing with some clay and Thomas was learning to count. So when he put his hand on a piece of clay, we wiggled each finger in turn and counted to five.
This is what Thomas looked like then..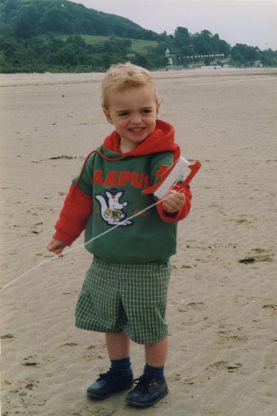 Instead of throwing away the clay (which we very nearly did), we put it to one side. Eventually when doing some tidying we came across the piece of clay again, dry and dusty on a shelf, and decided to fire it. Stella added some colour as a wash, then a clear glaze and wrote on it with a glaze pen.
Once we fired it, we decided to frame it and give it to my Brother.
The first ever Imprint looks like this..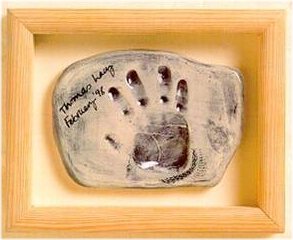 We didn't think much of it at the time, it certainly wasn't a eureka moment but some of my brother's friends asked if they could have one too, so we worked out how to make the service portable and improve the quality of the impression.
We started working through leading retailers in the Nursery and Childrenswear Markets a short time later. Specifically John Lewis in the UK and a short time later, Brown Thomas in Ireland.
The UK and Irish businesses have developed in parallel and after initially spending a lot of time on car ferries and driving around Ireland, we set up a stand alone business in Ireland, now based in County Dublin.

To cut a very long story very short. There are currently over 190,000 imprints hanging on walls in the UK and Ireland. There are workshops in 7 countries and we have made over 8500 store visits.
We now operate through Mothercare, Brown Thomas, Hamleys, Arnotts and Little Angels in Ireland.

The company, now called Memory Makers, has extended its range to include other forms of baby and child based keepsakes.
We never stop striving working to produce the highest possible quality items and offer an exceptional service through our network of 15 dedicated Print Takers throughout Ireland. Every item supplied in Ireland is produced by the team of Craftspeople at the workshop in County Dublin.

Our nephew Thomas (Whose Granparents are from West Cork) now looks like this..
His hands are a bit bigger.